Joined

Jan 10, 2009
Location
Best Catch

12lbs
Boat

Charger
OutdoorHub
New Super Light Jigging Rods from Daiwa: The Harrier SLJ Rods
Vertical jigging has become super popular in the past couple of decades, and it has been evolving constantly as well. One of the newest forms is lightweight jigging, it has rapidly grown in popularity in the past few years amongst saltwater anglers. It has been proven to be highly effective for a wide assortment of saltwater species throughout the water column. To help anglers go this route for vertical jigging, Daiwa has released a new line of rods made just for this technique with the new
Harrier SLJ
spinning rods. This is a line of four rods, all of them being 6'10", and made to optimally fish jigs in the 20- to 100-gram range. The lightest of the four is the ultralight power model (HRSLJ610ULS) rated for 20-pound braid and jigs up to 45 grams. Next up is the light power (HRSLS610LS) rated for again 20-pound braid and jigs up to 60 grams. Then a medium-light power (HRSLJ610MLS) that can use 30-pound braid and jigs up to 80 grams and a medium power (HRSLJ610MS) that is rated for jigs up to 100 grams.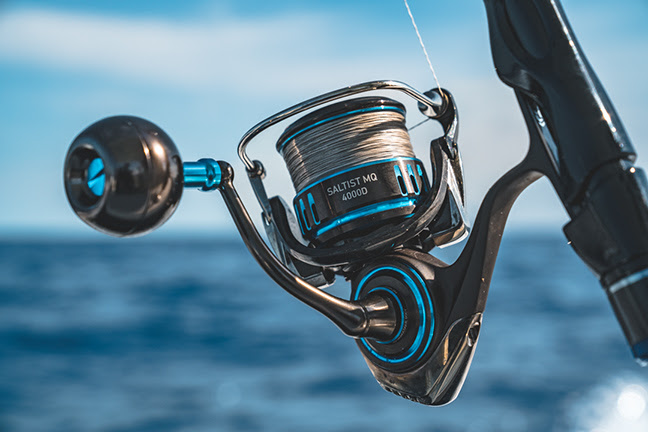 All of the Harrier SLJ rods are built on lightweight and thin blanks that have a strong backbone and an extra-sensitive tip. This gives anglers the ability to use rapid rod movements and fast retrieves to finesse their jigs to get those strikes from finicky fish. The blanks have Daiwa's HVF NANOPLUS carbon tech to reinforce the blanks through a micro-level arrangement of material in the resin. This makes for a thinner and lighter blank that is still strong and capable of stopping fish easily. The X-45 Bias Construction also gives greater strength and prevents twisting and localization of the rod. All the rods feature Tangle Free Fuji K-Guides.

"Anglers on both coasts and Gulf waters can target grouper, snapper, kingfish, tuna, and all kinds of shallow species with DAIWA's jigging system approach," said DAIWA's saltwater fishing expert Marc Mills. "We suggest you match up the Harrier SLJ rod with either DAIWA Saltist MQ or BG MQ 3000 to 5000 size saltwater spinning reel, spool them up with 10- to 20-pound J-Fluro fluorocarbon leader and 20- to 30-pound J-Braid, and then select any of our 20- to 100-gram including our new KO and BULL STEEL jigs and you'll be ready for some great fishing excitement."
​


Daiwa Harrier SLJ Rod Key Features
HVF NANOPLUS uses nano resin control technology in the blank construction process for increased graphite density within the blank
SPLIT GRIP has an exposed blank section between the reel seat and the end of the rod for better casting and rod control
X45 technology eliminates blank twist and increases power
X45 technology radically improves rod strength, durability, and sensitivity
Tangle Free Fuji K-Guides maintain hoop strength under load
4 spinning models available
MSRP $199.99
The post
New Super Light Jigging Rods from Daiwa: The Harrier SLJ Rods
appeared first on
OutdoorHub
.
Continue reading...